As a lifetime caregiver, CNA and activities person I was passionate about providing the best care I could for the elderly. Even with the training from brain-change-expert, Teepa Snow, I was overwhelmed with how to engage residents that had dementia. It seemed it was fairly easy to engage cognitive residents, although they easily got bored if you brought in the same entertainer all the time. Most entertainers could engage cognitive residents easily enough, yet they lacked engagement for the group that needed it most – the memory care unit.
Working in a long term care facility opened my eyes to how we take care of our elderly. Often I found myself saddened at their loneliness, boredom & isolation. I would use my personal time to take residents for a walk or visit with them to try to relieve their loneliness. My heart would grow for the memory-challenged community and I would find my self inspired to be part of their lives. I began to experiment with ways to engage them, ways to get them smiling, dancing or even singing. I would play their familiar music and some of them would awaken, maybe dance a little or sing a few words. Not for long though, and they were gone again. I would use everything that was provided with little results and eventually our facility installed a sensory room. It came with a mobile device that I found easier to use between meals out in the big community room. I would ask the CNAs that were running around taking care of residents to please put them in a circle when they brought them back to be part of the activity. I would put the machine in the center of the circle of residents. It had lights, burned scent oils, and it played music. I would experiment with familiar music and it would stimulate some, but still, some would stay asleep or engage very little.

When I put in music with the 'handpan' I quickly found a different response. It seemed to me that people were less anxious and willing to engage with me. Some took longer than others but after about an hour just about everyone was able to get Range of Motion or even exercise by dancing with me. Most of the group was smiling, even if their eyes were closed, a vast improvement from attempts prior. Residents with dementia often struggle with depression, stagnation, and muscle contraction. Range of motion and exercise can greatly improve the daily life of residents, regardless of their challenges, especially those in long term care, memory care facilities and adult daycares.
I received this 'handpan' music from a friend, Bright Hawk. I knew that she was trying to figure out what was next for her after a layoff of her position as an engineer. She had recently shared she was going through hospice training to play music for people at the end of their life journey. I ended up proposing a test of what I was doing, except now with live music, Bright Hawk was willing to try. I called around until I found several activity directors willing to let us give it a try and some of them where even willing to pay what they would normally pay an entertainer.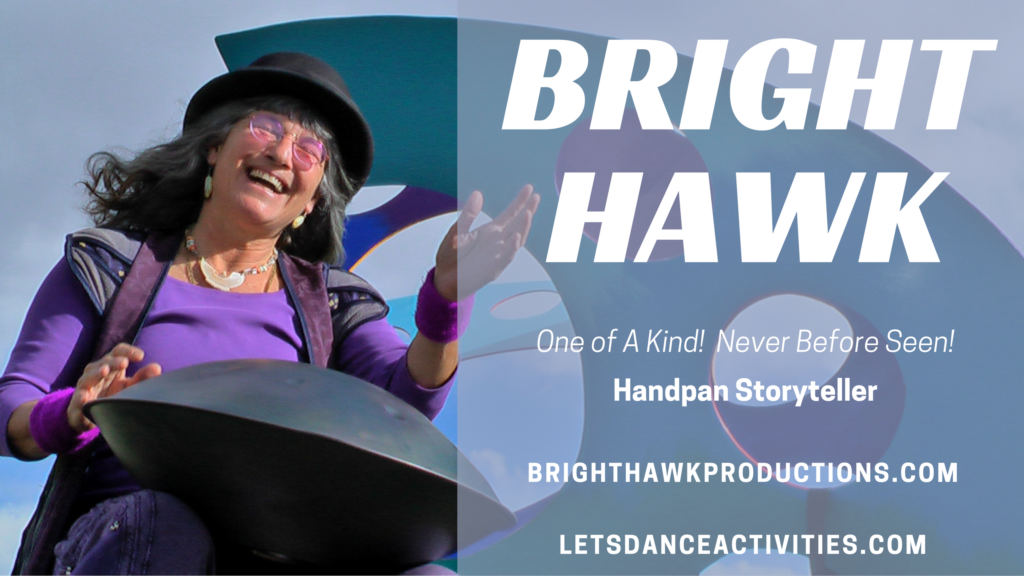 Our first programs proved very quickly we had something special. Our first year we would begin to offer this program we would evolve very quickly into a program that included travel stories, handpan music, exercise, dancing, smiling & laughing, hugs, validation, and one on one engagement. We would come into a group, set in a circle as requested, that was sleeping, grumpy, complaining, showing 'behaviors', and otherwise disengaged. When we would leave people would be relaxed, smiling, chatting with their neighbor, hugged, and glowing – as if some magic had just occurred. Activity directors would validate our suspicion when they would say "I have never seen anything like this!" or "I cannot believe you engaged Judy, she hasn't opened her eyes in months!" or "I was so surprised when Marjorie began dancing and singing with you! She never comes to activities!" Our suspicion that we had something special was validated.
Engaging Hard to Reach Residents

An entertainment Program that offers seniors and elderly an engaging program.
Truly a unique program that quickly became popular no matter where we offered it. We figured out we would need to work with communities that had less money to spend on entertainers, budgets vary based on the income level of the community. We wanted to include everyone plus it seemed it didn't matter the income level, everyone benefited from Let's Dance! The sliding scale became an easy solution because so many communities that had higher incomes were willing to pay a little more so that we didn't have to say no to a nearby lower-income level community.
Let's Dance serves all income levels

Let's Dance needs your donations to visit lower income communities
Now, we are a non-profit! We still ask that activity directors pay as much as they can afford and if they cannot afford our minimum we do a fundraiser for them. We still need help, we know the need for engaging programs that use approaches that work for this community and others like it. We have been able to develop a method that can be replicated, taught and integrated into communities that need them.
Volunteer from home and help underserved communities like elderly, memory challenged, people in wheelchairs, special needs, long term care, and seniors.

Let's Dance offers an online calendar and booking option to save you time and effort setting up programs
We need your help! We are ready to teach other caregivers and musicians to offer this program in their local area but we need a sponsor to get it started. We are looking for sponsors for Let's Dance that are interested in greatly improving the quality of life of our elderly, those living with brain degeneration, people in wheelchairs, residents in long term care, adults in daycares, and other communities with special needs. These communities deserve the best we can give them, and with the music of the handpan and methods developed by Hollis Taylor this program could uplift the lives of so many more than is possible with just Hollis & Bright Hawk. We are also looking for volunteers and appreciate any donations! Together all of us can greatly improve the life of this challenged group of people.