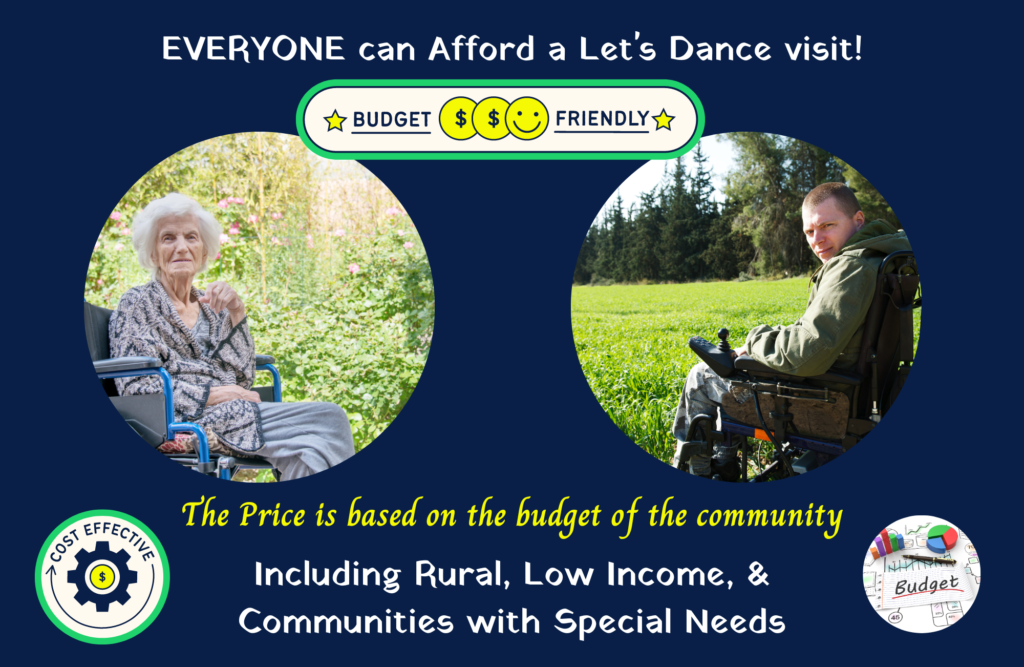 Let's Dance is a Not for Profit organization that works with communities in Long Term Care, Nursing Facilities, Memory Care, and Special Needs and is working hard to be sure this program is available to all people, regardless of their financial situation.
Let's Dance has adopted a "Sliding Scale Fee" model in order to bring the program to all communities. Let's Dance is a special program and we feel that everyone should have access to the program regardless of their ability to pay.
We know that most activity directors are provided with a budget that allows for monthly outside programs to uplift, inspire and foster joy and connection. This can be hard for activities directors since they have many choices but often the best choices are too expensive and beyond their budget. Let's Dance quickly found that as a high-quality program, we were out of reach for some communities, so we quickly made adjustments to our pay scale in the early days of our development. Since then we have worked on different ways to work with activity directors and we know that we are all in this together.
We have found that the majority of activity directors are in their line of work because they fully and completely want to support older adults and adults with special needs. They know that there are other communities just like theirs and most are willing to pay as much as their budget allows, especially once they witness a program. Once they witness a program some are even inspired to increase their donation to Let's Dance because they want to have us back again and again, so they do their part to keep us afloat financially, so we can keep going.
The amount changes often based on location, income level, census, and of course the budget. Some communities can pay as little as $75 per visit while others will pay as much as $300! We are grateful when activities directors take in the whole picture and we believe that YOU will do your part to keep this non-profit on the road serving communities everywhere!
BOOK your community NOW! CLICK HERE!
You can donate or send payment through