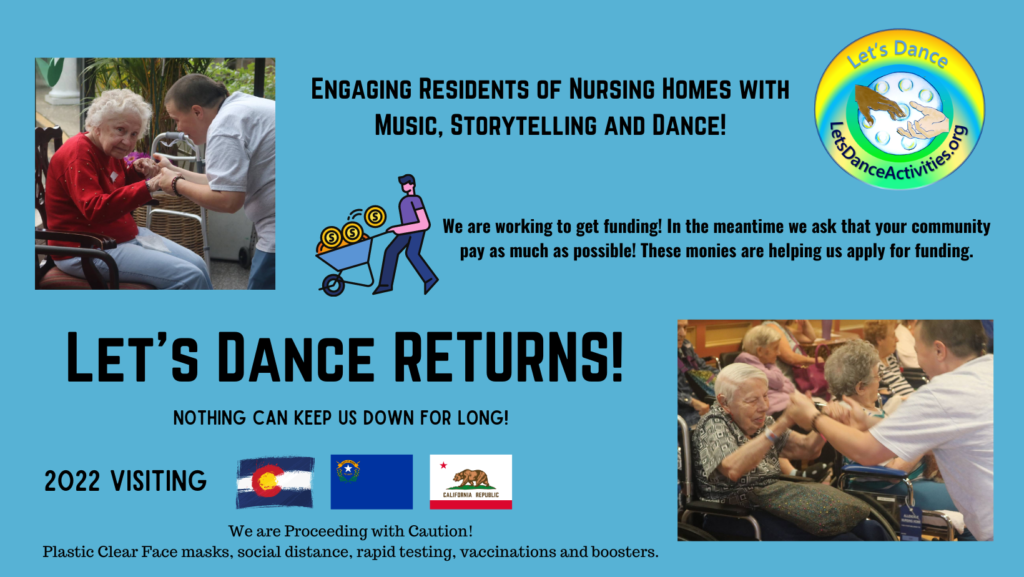 NOTHING CAN KEEP US DOWN!
We are so grateful to have made our way through the pandemic to the best of our ability, we hope your community has faired well! Let's Dance Activities is excited to return to service in communities – starting in our home state of Colorado. We will be visiting Nevada and California for short periods of time and we could visit your community as well!

Let's Dance has been a non-profit, 501(c)(3) since 2017 and we are working to raise funds to pay for updating our filing status so we can apply for and hopefully secure grant funding.

Many communities can pay some amount for Let's Dance to visit. Which is why we have a sliding scale and have accommodated many communities. We set up Let's Dance to work with YOUR budget!

Please NAME your price when BOOKING your visit! If you're in Colorado we are taking bookings till the end of the summer right now. In Nevada and California we have limited time in your area in May and we are excited to visit some of our favorite communities!

We have addressed Covid concerns, first we are both vaccinated and boosted at this time, we both have our cards. The musician stays 10+ feet away in most cases and Hollis – the engagement specialist- will be trying to give instruction but in the event they are unable to follow directions Hollis will engage them personally, sanitizing/washing hands in between each person, and wearing a clear plastic mask. The musician will also wear a clear plastic mask to reduce any exposure. Both Hollis & Bright Hawk are willing to arrive early for a rapid test as well. If you have any further suggestions to keep residents safe we are excited to hear them!