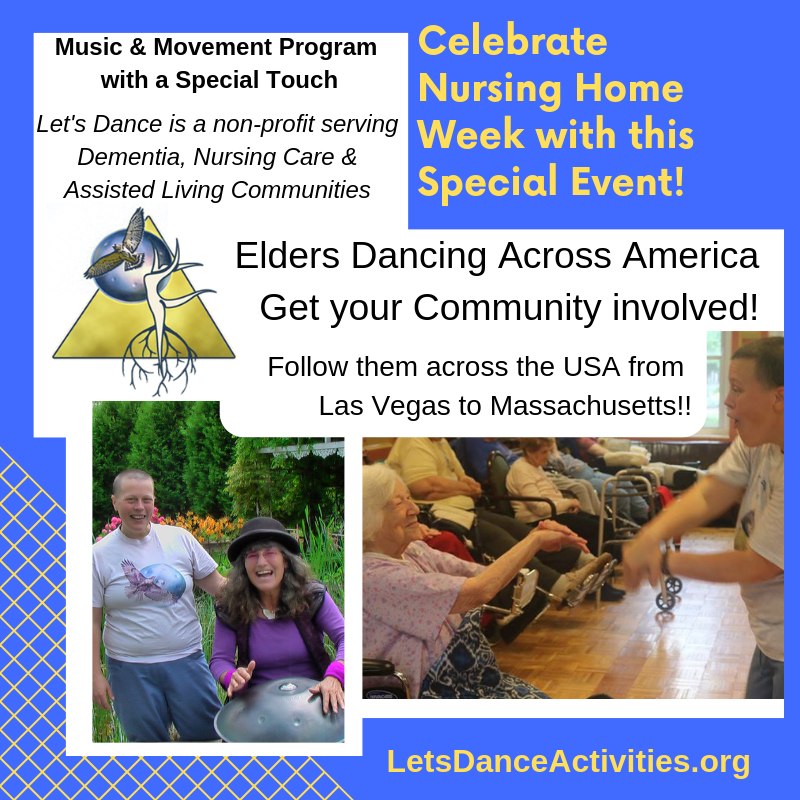 Let's Dance is launching a special event for 2019 Nursing Home Week. Let's Dance will be traveling from Las Vegas, Nevada – Grand Junction, Colorado – Colorado Springs, CO – Kansas – St. Louis, Missouri – Buffalo, New York and finally ending in Western Massachusetts for the entire stretch of National Skilled Nursing Care Week. Let's Dance will be servicing communities in each of these cities along the way in hopes to raise awareness for our elders, often in Skilled Nursing Facilities, and Let's Dance intentions to train other pairs across the country.
Let's Dance is a non-profit that services communities across the country. This program is a very special and unique experience offered to memory care units, nursing care communities, long term care, and other communities with special needs. There is a musician, Bright Hawk, that is using a handpan, an instrument we would love to see further testing on the effects of the brain, since we know that the sound of the handpan seems to reduce stress & anxiety, as well as help, challenged communities engage more fully. Also, Let's Dance offers a PERSONAL TOUCH from Hollis Taylor a CNA that accompanies the musician. With a musician playing positive music and Hollis' personal engagement most activity directors report that the interaction is what makes this program stand out among the rest. Hollis uses special techniques based on their training with Teepa Snow as well as techniques developed over the years of working with communities in memory care.
Hollis also holds a lifetime of experience of working with people with special needs and is often understood to have a 'special touch' or 'way' with people. Hollis is the creator and founder of Let's Dance and holds a current CNA license in Colorado. Hollis also has an education in psychology, nursing, and a lifetime of experience as a personal caregiver. Hollis was inspired to start Let's Dance after witnessing the effect of Bright Hawk's music on a group in Pennsylvania.
Once Bright Hawk and Hollis began working together in Fall of 2014 they have experienced huge growth for Let's Dance now offering more than 150 programs per year. Hollis and Bright Hawk have developed a training program for musicians and movement specialists so that these techniques can be used by other pairs to offer a similar engaging program more regularly, Nationwide.
Let's Dance is seeking funding to begin to offer this training program for other pairs. The funding would also support regular operating needs. Let's Dance takes great pride in knowing we don't say NO to any community. We work with budgets and activity directors to raise money for their communities special event.
Let's Dance has a Public calendar