As an Activity Director and CNA (Certified Nursing Assistant), we all become aware of the risk of burning out. Since I had been a lifetime caregiver I was aware of this potential, especially with the dementia residents in a memory care unit. When I was feeling grumpy or tired I would take a moment in the break room to breathe, stretch and focus on myself for a moment. On the wall was a sign that I always took a moment to read, it would shift my mood and Maya Angelou was inspirational and she reminded me of Oprah Winfrey. I grew up on Oprah, somehow to my young mind she was proof a woman could do anything, and she still is. So I knew that before I walked out on that floor I needed to remember this quote, "I've learned that people will forget what you said, people will forget what you did, but people will never forget how you made them feel." I smiled, I wanted to be sure this group felt good today. Just because I had a rough morning doesn't mean they need to. They deserve a good day and it's my intention to help them with that.
As I helped each person into the circle I remembered how some of my deepest friends would gather in a circle, today, these people were my friends. Some of them would be in wheelchairs while I ran about helping the wanderers know where to sit for the activity. I was cross-trained and today they wanted me to manage a group of 25-35 memory care residents in between meal times. I was largely responsible to make sure none of them fell and instead they hoped the residents would have a good time.
They put me on this position lately because I had begun experimenting with music. Did it HAVE to be the music they recognized? I played relaxing handpan music, a gift from a new friend, Bright Hawk. I noticed they would relax and sink into their chairs, close their eyes sometimes and just breathe. Even in my tired state I swallowed any angst and helped a lady that was often cruel. She said mean things and called me fat, a lot! I know that dementia can sometimes create these behaviors, they forget about socially acceptable behavior and I know its impossible for them to see my perspective. I still knew she deserved to be treated with respect, love, and care anyway. I offered her my hand and she smiled at me. She was willing to go with me, it seems she recognized me today. As I invited her to sit on one of the chairs in the circle she said, "What are you doing?" As if to question my intention with the circle, she talked down to me. I took a deep breath and closed my eyes before I turned around. She smiled at me as I stared into her eyes and smiled back. I wished she had remembered how much fun she had yesterday when we did this, but I knew she didn't. I simply said, "We are gonna listen to some music and dance, get some exercise!" She leans back with her attitude and says, "Well THAT sounds fun!" She mumbles something inaudible. I know that if we can quickly get started it will be easier to engage her with love. She was being more cooperative today though, with her patience, I was grateful. I wondered if she somehow trusted me today, more than other days. Other days she yelled at me because I didn't always understand what she said. Her words are mixed up and she has no idea. So I do my best to deduct from her tone, body language, and possible needs but sometimes I just don't understand. It's like playing a guessing game. I would just apply compassion, apologize and do my best to make it better.
This day she was way more trusting, she came with me right away. I expected her to say no several times, otherwise, I would have waited to get her last. Yet, now she is here and I have to ask her to wait, this isn't always easy. I am grateful for an assistant to keep bringing people into the circle as I play the music on the sensory machine in the center of the circle of new friends. She stared at me as if I had played the wrong music, I smiled at her. She watched as I began to engage others in the circle. Offering them range of motion stretches, such an important piece for people with dementia, exercise. I turn around to look to see if she has left yet but now she was actually stretching with us. Several of the residents began to stretch with me! I think they remember!
I end up dancing with most of the residents, whether in their wheelchair or not. I hold their hands and help them remember how to move to the rhythm. Even my friend is willing to dance with me again today, just like she had done the day before. Except for today, it was fewer times of asking. She trusted me, I knew this feeling. Its when the quote I had read in the break room made so much sense here. She didn't remember what we did yesterday, nor did she know my name or even what I said just two minutes ago when I asked her to hold on while I set up the music. She waited for me because she trusted me, because she remembered that I was trustworthy from the days before. She was willing to engage with the music and the dance circle because she remembered that somehow I had led her to the fun. As she danced with me she smiled and would get me going on the jitter bug, she laughed and hugged me. She somehow remembers we had done this before, I knew we had done it every day for three days in a row. She didn't remember the details, she just KNEW I would lead her to good and happy places. She would hug me again and again throughout the ninety-minutes of music and exercise. She would dance and feel super happy, then she would hug me. It was like the hug was as important as the dance!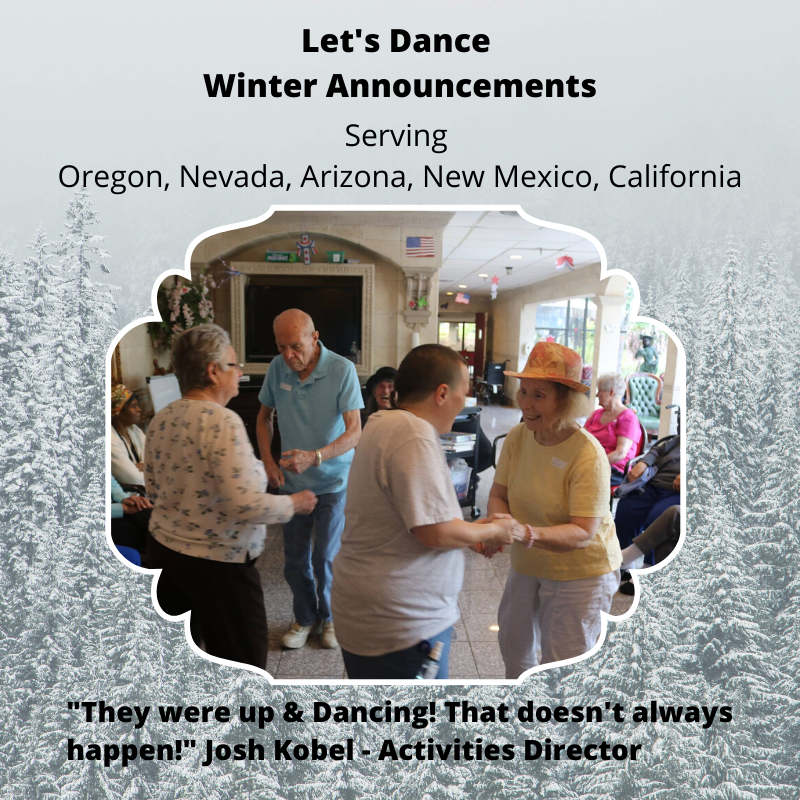 I smile as I remember the quote from Maya Angelou and how Oprah could do anything. She certainly had remembered how I made her feel. She didn't remember the rest of the details but she knew she could receive love and fun from me. Every time she would see me, even if there was no dancing going on at the moment, she would hug me. I began to realize that people with dementia, really needed hugs! In fact, dancing and working with my residents like this sparked so many hugs that I felt it was therapeutic to me too. Several times I was not having a good day, but after being hugged by so many residents, then I began to feel better. As if hugs had a special healing power! I wondered about the impact of hugs and dancing on the world! Especially the world of people with degenerative brain diseases, maybe they were here to teach us something about human connection!
Now five years later, we celebrate our anniversary with our newest campaign. One of the best gifts we offer residents is HUGS! Let's Dance is not like any other entertainment that visits nursing centers, we not only entertain we comfort, we validate, and uplift the residents. So when you donate to our newest HUG campaign you help us send more HUGS to people in long term care. WE all know how great a HUG can be! Even on a good day, a hug, even from someone you just met, can be inspiring, validating and generally help us open our hearts to love. Something about that human connection that helps us all feel connected to each other in a really deep way. At Let's Dance we deeply know that the most important part is that we leave them feeling LOVED, VALIDATED and INSPIRED!