Working with nursing care communities has a learning curve, regardless of training or background. We know that being flexible is part of answering this call to bring a good time to communities nationwide. Let's Dance has been visiting communities Nationwide since 2014. This is our 6th Year offering a profound program that engages hard to reach individuals and offers a program that delights their senses, moves their bodies, inspires smiles and uplifts their hearts. Over these years we have learned a few things and often its the community that teaches us.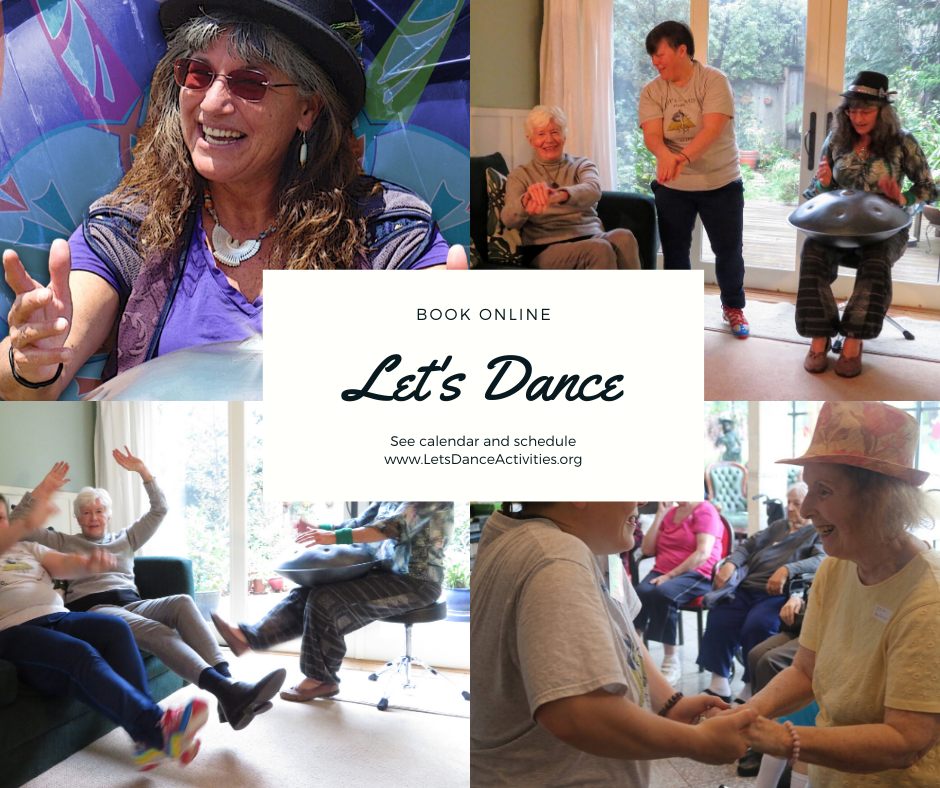 Bright Hawk sits in the middle of the circle of individuals, participants are made in the biggest circle possible around her. We try to leave spaces for people to move in and out, especially people that want to wander around a bit. Bright Hawk sits on a stool in the middle and can spin around easily with the instrument on her lap. The instrument is delicate and must be protected from any outbursts. Also, it's hard to play music while someone is grabbing your arm or touching you in some way. So often Hollis will try to distract any wandering person that might get too close to Bright Hawk, with a simple invitation to dance. Hollis dances them to the other side of the circle and they either take a seat or keep walking. This keeps the flow of the program engaging for everyone.
Early in our development, we visited a community in Colorado. At this program, a woman from the memory care unit was brought out to enjoy the program in the dining area. She stood up and began to move towards Bright Hawk. Hollis meets her just before she reaches Bright Hawk and offers her an invitation to dance. The woman politely accepts yet looks perplexed at Bright Hawk in the middle. She accepts the invitation to sit back down but it doesn't last long. She is back up and headed right for Bright Hawk. Bright Hawk turns away from her on her stool to keep the instrument and the woman safe. Hollis steps in just in time to offer another dance. They dance to the edge of the circle and back into a seat. This time though Hollis can see she is just waiting for Hollis to look away before she runs for Bright Hawk again. So Hollis whispers in Bright Hawk's ear, "Just let her touch you, let's see what happens." Hollis had a suspicion that this woman was cognitive, at least at this moment. Hollis also had a suspicion that this woman had experienced hallucinations in the past and might be looking to confirm she wasn't hallucinating. Hollis approaches but doesn't stop her from touching Bright Hawk.
She taps Bright Hawk's shoulder, first just gently and then repeatedly as if to say, "Yes you are real, ohhh thank goodness you are real." Her face said it all, she smiled and invited Hollis to dance. They danced to the edge of the circle to a chair. She sat down and enjoyed the rest of the program confirmed that the unusual set up she seen before her, was indeed real.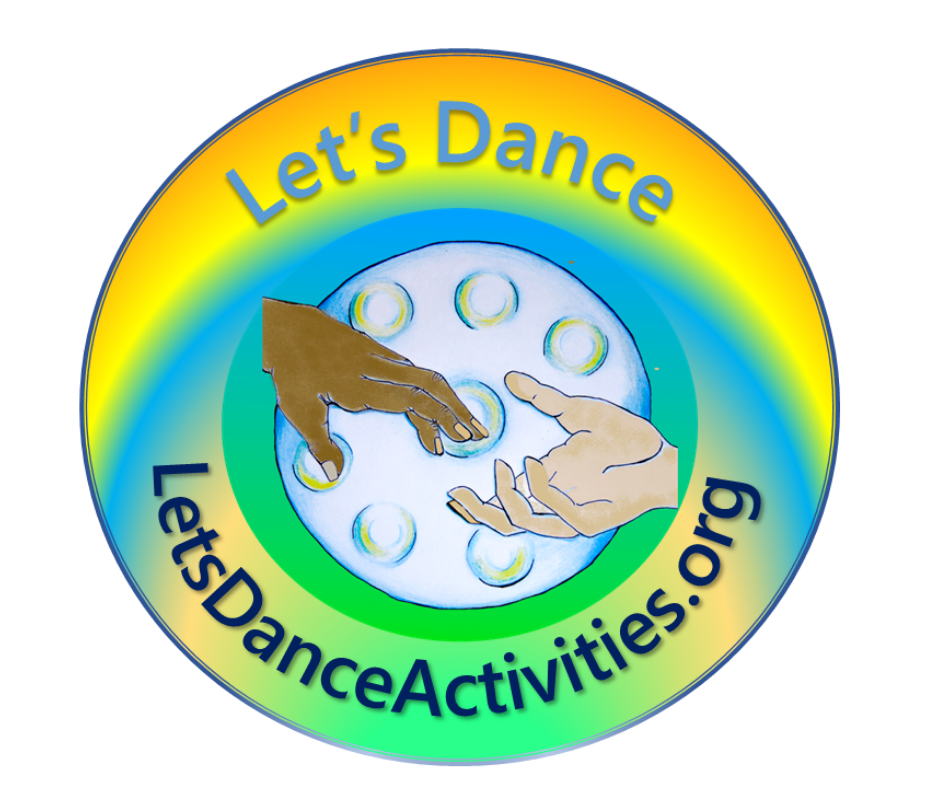 This woman is just one example of why we keep the Let's Dance program flexible. We can lean into a program that is for full 'memory care units' as well as 'adult daycares' – 'nursing care centers' and even 'independent living'. We know how to adjust and offer programming that is appropriate for their cognition and generation. Let's Dance always step into any community with the intention to engage as many people as possible.
Let's Dance is booking most of the USA right now. In the Spring of 2020 including California, Nevada, New Mexico, Colorado. Also, we are holding our 2nd Annual Nursing Care Communities – Dancing Across America event. We will begin in Reno, NV at the "National Association of Activity Professionals Conference" and ending in New England by the end of Nursing Care Week in May of 2020. We are dancing with communities across the USA and if you're in our path we want to visit YOU! Check out our public calendar to arrange your visit now! We have visits posted in Western & Central Colorado, Kansas, Missouri, Indiana, Ohio, New York, Massachusetts, Rhode Island, Connecticut, Wisconsin, Minnesota, Illinois, Pennsylvania, Maryland and we will be back in Colorado in late July & August. Get your community booked now at our PUBLIC CALENDAR.