When Bright Hawk first began doing programs she had mostly played music for transformational healing groups. She had told stories in the children's hospital but back then she played the djembe, a loud African drum. The music was special for many reasons and the residents truly enjoyed being soothed by the instrument. The handpan has a very special vibe, none of us would dispute that fact. When residents hear it, the staff walks by and family members hear it in the halls they always stop by to see what is 'going on'. This is exactly what activity directors want to happen with their community, they want their entertainers to engage everyone.
Bright Hawk was also a storyteller and she began to put together her stories along with her music, in a way that was very exciting and fun for residents. In fact, as I watched her try on this style of entertainment I was excited to see that cognitive residents felt very included as much as the people with dementia. The best part about the stories was they each lead into a little song where we could all sing along, stretch or move our bodies. One of the most powerful songs to witness is the "Love Song". Again and again, when Bright Hawk & Hollis get the whole group singing "Love, Love, Love" we can feel the room shift from stressed and chaotic to connected and joyous! It was like simply repeating that word in the chorus made it easy for everyone to sing along, and the word itself is loaded with memories of past loves. Hollis would witness rather quiet people begin to sing along and even the toughest of the bunch would join in on something so joyous. Hollis was inspired to create movements to go along with the singing and the next thing you know we have Music & Movement, something everyone can engage in.
Hollis also noticed that regardless of their cognitive state the stories would help them remember times of travel like vacation, honeymoons and then some stories reminded them of fun times with family. At a community we visit several times a year in Fort Collins, CO there was a woman that loved our program. She requested to alway be brought in, she would get pushed into the circle and eagerly smile at us. Hollis recognized that smile, it was because she remembered that THIS was fun. She hadn't remembered all the details but she knew that what we brought was going to be fun! We smiled back at her and continued to set up. Each time in the circle she would tear up when Bright Hawk would talk about Hawaii. When Hollis would lean in to invite her to dance, she would happily join in on the hula dance we do for the Hawaii story. She would smile big and each time she would say the same thing, "Ohhh I remember doing the hula with my husband on our honeymoon!" and a tear would drip out her eye, she apparently missed him. Hollis would lean in and say, "I know you miss him. I am grateful we can dance, now!" She would smile through her tears and say, "You remind me of him and I am grateful for that! I love dancing and I really love Hawaii!" We would smile at each other through teary eyes and on she would go doing the hula for the whole story, the whole song. Her movement would often keep others in the group going, too.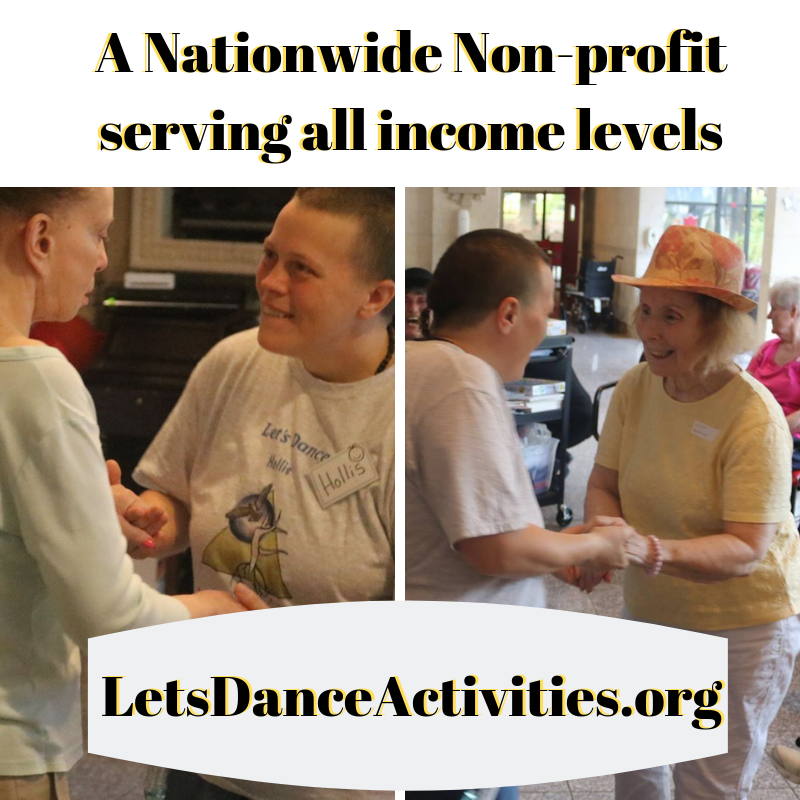 These stories help us understand HOW the Let's Dance program inspires people with dementia and other special needs. The stories help dementia residents to engage in reminiscing and cognitive residents are fascinated by the stories themselves. The stories carry messages of gratitude, adventure, coming together as a community, love, dance and other fun times like baking cookies! Participants at Let's Dance engage based on their ability, it allows for them to engage as much as they are possible and certainly inspires them to do their best. The stories are one more layer to this diverse program that uplifts so many hearts nationwide. When you witness a Let's Dance program, regardless of your own personal situation, including staff and family members, people are smiling and grateful.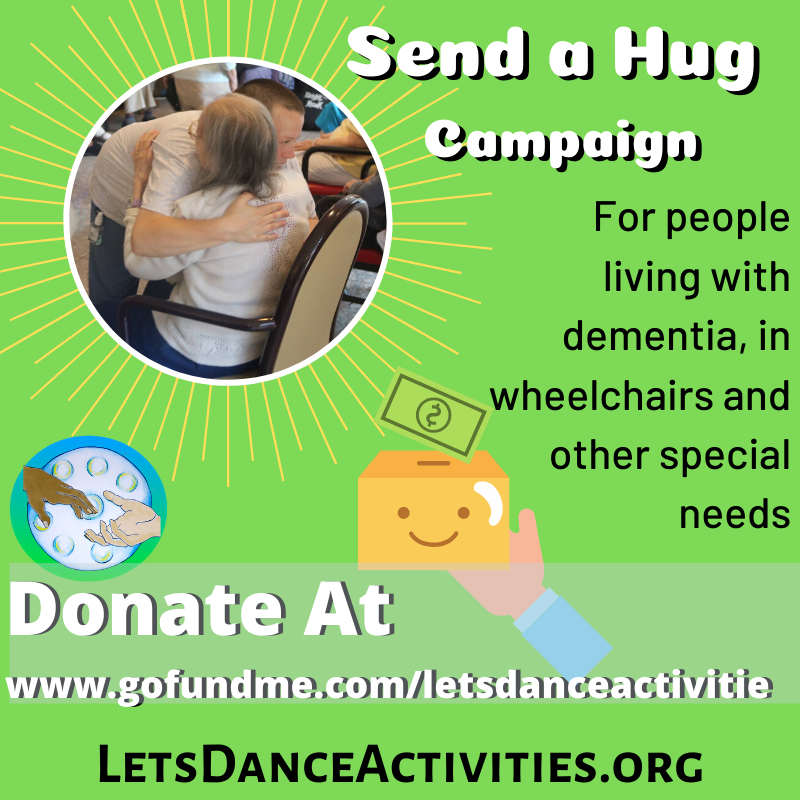 Let's Dance has more visions inspired from 5+ years traveling the Nation and visiting adult daycares, memory care units, and even neighborhood respits. Let's Dance has visions of training other individuals to provide engaging entertainment programs in long term care and programs that individual families/friends/caregivers can bring people to that will help them engage with loved ones living with degenerative brain diseases. These visions can only manifest with the help of all of us and Let's Dance is asking YOU for help. If you can help financially please visit our donation page to get more information.

If you want us to visit YOUR community, please send us a message and will do what we need to do to visit you! You can see our public schedule, we like to keep it 6+ months out. Simply fill out the form below the schedule and we will get back to you ASAP to confirm our upcoming visit. Read our newsletter to be sure you get notifications when we are coming to your area. This December, January and February we will be visiting communities in Oregon, anywhere in the state please contact us to arrange a visit! Then in February and March we will be visiting California, Nevada, Arizona, New Mexico and we will make our way to Colorado in early April 2020. We are sure we are in Minnesota in June, Massachusetts before and after Memorial Day and Ohio after the 4th of July. If your in between, please contact us our about our route and we are happy to stop at your community, too!